Wix vs WordPress, which one is the best option to create a website? Wix offers a user-friendly website builder that is arguably one of the best website builder platforms available.
While WordPress is widely regarded as the best blogging platform to use. Despite being built as a blogging platform, WordPress is highly capable of creating a website experience.
Is Wix better than WordPress?
It comes down to two simple questions. Are you a beginner with limited technical ability? If so, choose Wix.
Do you have some tech-savvy? Meaning you can install WordPress on a hosting provider.
Do you also know your way around the backend of WordPress to publish and edit pages/posts. If so, get a hosting account with Bluehost and start a WordPress blog.
Regardless of which option you choose, both are great for creating a website. Additionally, You can import posts from WordPress to Wix.
Wix will charge monthly fees. If you decide to use WordPress, once installed, it does not carry a monthly fee. Only web hosting and a WordPress theme are required. I can help you with a huge discount offer for hosting.
Wix pricing
Wix offers eight options. If you are just starting out, you only need to go with the most basic plan, which costs $14 per month.
Combo: $14/monthly fee
Unlimited: $18/monthly fee
Pro plan: $23/monthly fee
VIP plan: $39/monthly fee
Basic business: $23/monthly fee
Business Unlimited: $27/monthly fee
Business VIP: $49/monthly fee
Enterprise: Custom pricing
Wix vs WordPress Pros & Cons
Wix Pros:
All in one management platform
Integrated ecommerce option
Drag-and-drop site-building
Supportive and responsive team to help you
WordPress Pros:
WordPress is free
Frequent updates and a large community of adopters.
Intuitive content management capabilities
Extensive repository of themes and plugins
Most popular website and blogging platform
Wix Cons:
Third-party ads are shown on your site for the free version.
You cannot change your site design after you choose one.
Monthly charge, minimum fee $14 per month.
A lot of template designs are underwhelming.
WordPress Cons:
Too many theme options slow down site creation time.
Some plugins may cause issues with specific theme options.
No direct support, but support forums exist on WordPress.org
The learning curve to customizing your site layout can be steep.
If you plan to add a blog to your site, regardless of which platform you choose, I recommend reading my guides on writing a blog post that converts and how to monetize a blog.
Additionally, to make sure your site appears in Google search results, reading my guide on SEO will also be of great help.
Prerequisites To Build A Website
Domain name (e.g., www.YourSite.com )
Website hosting (Free for Wix users)
WordPress.org installation (Requires web hosting)
Here is a free tool to check the availability of your domain.
Now that you have a brief overview of the pros and cons of Wix vs WordPress, let's dive into the details if you are still stuck on the fence.
The True Cost of Each Platform
While Wix and WordPress both offer a version of their platforms for free, chances are you'll want to make some upgrades to get your blog.
Wix Cost
Wix's basic website builder comes at no cost to you, but it does come at a (visual) cost to your readers; that is, they'll have to look at ads the whole time they're reading your blog.
Wix will install an ad on the top of your blog automatically when you're using the free version of the platform.
The free version of Wix's requires that you keep "Wix" in your URL, so you won't be able to create a custom domain name.
Here is what your domain name will look like for the completely free option.
Yoursitename.wix.com
You also won't get any of the bells and whistles you may or may not need with Wix's free version.
If you're just starting out, this is fine. But once you're ready for your blog to take on a professional image, you'll need to subscribe to a paid plan.
I recommend starting with an annual plan if you'll be sticking with Wix for at least a year that way you'll get about a 20 percent discount.
If you buy an annual premium plan, Wix will throw in a free domain name for a year and several hundred dollars in ad vouchers to use for Google Adwords. Claim your free ad vouchers and domain name from Wix.
WordPress Cost
WordPress is free to use. But the articles you create on WordPress will never see the light of day unless you have web hosting and a domain name.
You will need to purchase both. This isn't a large fee, though. Websites like BlueHost offer hosting and domain names for just a few dollars a month.
I suggest going with BlueHost. It's endorsed by WordPress and will offer you a ton of additional perks, like one-click WordPress installation and 24/7 WordPress support.
The other cost on a free WordPress account are Plugins and themes. There are alot of WordPress plugins to choose from to approve the appearance and functionality of your WordPress site.
WordPress plugins will vary dramatically in price: from just a few dollars to a few hundred. Thankfully, there are also many that are free, so you don't have to spend extra money if you don't want to.
Is Wix a better choice vs WordPress for the cost ?
Both Wix and WordPress are technically "free," but paying for upgrades is more or less mandatory for a successful site.
If you're making your decision based on pricing alone (which I don't suggest), then Wix is the better value.
But it's much more important to choose a website builder that will work for your needs, even if that means investing a little more money.
Website Design on Wix vs WordPress
Your website can be jam-packed with the best information in the world, but if it's not visually appealing, few people are going to read it. So let's dive into how design works on Wix and WordPress.
Wix Design
Another reason Wix makes a great choice if you're not looking to do too much messing around with your website: it comes with hundreds of pre-designed templates in a bevy of categories like personal, arts and crafts and, of course, business.
Unfortunately, like I mentioned above, many of these templates are less than stellar, and it's important to know that you're stuck with whatever template you choose.
But the good news is that there are several great templates to choose from among the not-so-great ones, and if you like the bones of a template but not all of its features, Wix does provide some tools to modify the template and move its elements around.
If choosing and modifying a template feels either too time-consuming or too intimidating to you, there's Wix ADI, a tool that asks you a few questions and then designs your website for you.
WordPress Design
If a huge number of design theme options is important to you, then WordPress will be your best bet. If Wix is a paint by number, WordPress is a giant blank canvas.
WordPress has significantly more design themes available than Wix, some of which are free and some of which are paid.
Similar to Wix, you can choose a WordPress theme that's designed for personal use, for a business and for everything else in between.
If you're wondering why you'd use a paid WordPress theme when there are free ones available, the answer comes down to features and support. You typically get more of both when your theme isn't free.
A third option with WordPress is to work with a developer to create a theme completely unique to your website and business.
Which is better for design ?
When it comes to designing your site, it depends on your definition of "better." If "better" to you means getting the design done as quickly and with as little effort as possible, Wix is the way to go.
If customization reigns supreme for you, choose WordPress. Start designing your WordPress website today.
Blogging with Wix vs WordPress
Chances are you're looking to use Wix or WordPress for blogging, so here are some key things to keep in mind about blogging with each platform.
Blogging on Wix
I recommend using Wix if you're just getting started with blogging and need something very basic.
While the blogging features that Wix does have — archives, photo and video, tags, and categories are easy to use, they're all you'll have to work with.
Wix doesn't have many "basic" features that you might be accustomed to if you've spent any time blogging, like the ability to add featured images, native commenting or the ability to backdate posts.
Wix also uses a plain text editor that you may find frustrating if you've worked with platforms that have richer formatting options. That said, Wix does offer a free library of images, which WordPress does not.
Blogging on WordPress
Most blogging veterans will tell you that WordPress is the way to go, especially since it was created as a platform for blogging.
It has all of the features missing from Wix, like featured images and native commenting plus Gutenberg Block Editor, which makes formatting text a seamless process.
This all comes standard with WordPress blogging. There's limitless amount of plugins you can add to make the blogging experience custom to you or your business's needs.
Which is better for blogging Wix or WordPress?
If blogging is not a primary part of your website strategy, Wix is fine. But if it's of any importance, choose WordPress for blogging.
Creating web pages with Wix vs WordPress
Chances are you'll be using whatever platform you choose for a large portion of the day, so it's got to be something that you enjoy using, and this is one area where Wix clearly takes the crown. Let's look at ease of use for Wix vs WordPress.
Creating web pages with Wix
Even if you're not a blogging novice, there's a chance you'd find creating pages and posts with Wix more enjoyable.
Creating a page or a post is highly visual; you just drag and drop your preferred elements wherever you want them on your page.
You can rearrange and resize the elements to your heart's content. And you don't have to know anything about coding to design a page on Wix.
Creating web pages with WordPress
While WordPress is still simple to navigate, it's not as simple as Wix's drag and drop system. Instead, you'll need to use navigation menus to customize your page.
That said, you can still get away with using WordPress without having a lot of knowledge on coding — the visual editor makes it easy.
Unlike with Wix, you won't see your edits in "real time" though. You'll need to save them and then generate a preview of your page. This is easy to do, but is one extra step.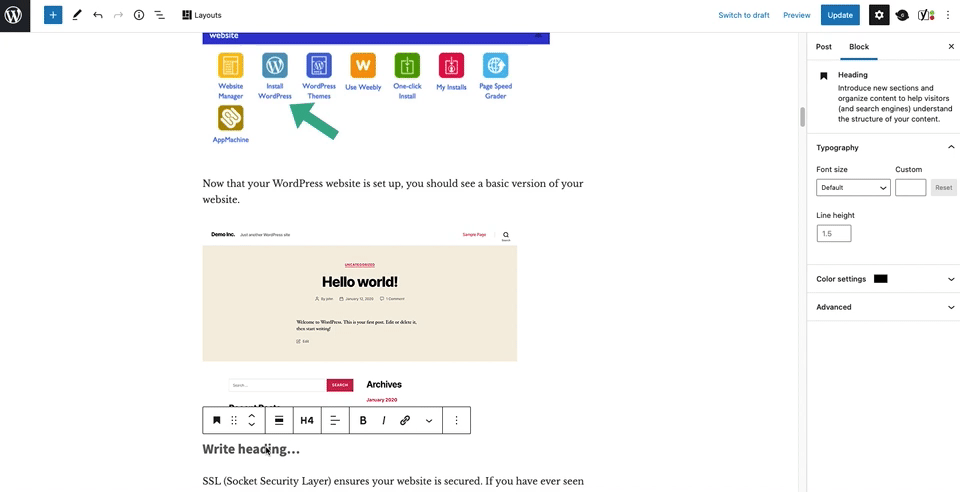 There are ways to make WordPress as easy to use as Wix, but it will require you to install a plugin. I recommend if you would like the drag and drop functionality of Wix to download the beaver builder plugin for WordPress.
Which is better for creating post & pages Wix or WordPress?
From purely an ease of use perspective, Wix is the better choice. But if you want more control over the appearance and functionality of your site, you'll need to put the extra work in with WordPress. Start creating posts & pages with Wix today.
Third party extensions on Wix vs WordPress
Wixs uses "apps" but if you are using WordPress third party extensions will be called "plugins" third party extensions are features you can add to your platform of choice to make your site more robust, easier to use or, hopefully, both.
Here's what you can expect from adding third party apps to each platform:
Wix Apps
The name of the game with Wix is simple and streamlined, which in this case means they have far fewer app choices than WordPress — only a couple hundred.
That said, the apps that are included offer almost anything you would need to add to your site: think basics like social media buttons and contact forms.
Most of the apps are free. (Though there are some paid options.) And even the third party apps are reviewed and verified by Wix.
Like I've said about Wix's other features, this is a good option if you're just starting out and need the bare necessities.
WordPress Plugins
WordPress is a treasure trove of plugins; there are tens of thousands of options and more are created all of the time.
Add in the plugins sold by other marketplaces, and you have nearly infinite choices for installing analytics software or almost anything else you can imagine.
Like with Wix, some of these options are free and others are paid. If you're looking to build a robust site with lots of features, or branch into more complex things (like an online course for example), you'll probably need WordPress's bevy of plugin options.
Which is better for third party extensions Wix or WordPress?
Due to the amount of plugin options available I highly recommend WordPress. Get started with WordPress today.
Exporting content on Wix vs WordPress
There may come a time when you need to export content from your site, and doing so can be supremely frustrating if the platform you're working with makes it a difficult process.
So let's look at how easy it is to export content from both Wix and WordPress.
Exporting content from Wix
I'll get right to the point; if you think you'll ever be exporting content from your site for whatever reason, don't choose Wix.
Wix tells you outright that your content is not designed to be exported, and it's hosted exclusively on their servers.
That doesn't mean you can't move your content if you really need to, but it's going to be a bit of a painful process. You'll have to manually download everything — including all of your images and videos.
Exporting content from WordPress
By comparison, exporting content from WordPress is a dream. With one click, you can download all of your content in XML format and transfer it as you please.
Which is better for exporting content Wix or WordPress?
There's no competition here. WordPress makes it monumentally easier to export your content than Wix does.
Ecommerce Wix vs WordPress
If you're using your website to sell a product or service, it's critical to know which platform will support you best in making sales.
Wix Ecommerce
The first thing to know is that you won't be able to do Ecommerce if you haven't paid for Wix; their free plan doesn't offer this feature.
If you have upgraded to a paid plan, WixStores is available for you to use. Three of Wix's plans come with it already included.
It operates smoothly and has helpful features like currency conversion and automatic sales tax, but it's important to note that you'll only be able to accept payment using Authorize.net or PayPal.
There are additional paid apps you can add to your Wix Ecommerce suite, but I don't recommend them for the price.
WordPress Ecommerce
WordPress uses the ultra-easy-to-use WooCommerce, an immensely popular platform in the ecommerce world.
Not only is WooCommerce more user friendly, but it's a lot more flexible and customizable too, helping your business grow as your customer base does.
Keep in mind that you'll need to pay WooCommerce's associated costs, like hosting, and theme. And like with Wix, you can also use third party plugins to make the experience even better.
Is Wix better than WordPress for ecommerce?
You should only use Wix for Ecommerce if you're selling the occasional item; think a limited-run t-shirt line.
If I had to choose between Wix vs WordPress, I would have to go with WordPress.
Although, Shopify would be my number one go to for ecommerce outside of the options of Wix and WordPress.
I wrote a guide on setting up a Shopify store which I recommend reading. Shopify is highly regarded as one of the best all around ecommerce platforms to use hands down.
Support using Wix vs WordPress
Murphy's law usually comes into effect right when you're about to roll out a new product or publish an important post, and when that happens, it's nice to have some expert help.
Wix stays true to its reputation as best for beginners, generally offering a lot more help to those struggling than WordPress.
Customer support with Wix
First things first: the chances that you'll have any issues with operating Wix are minimal. Like I've mentioned, it's very easy to use. But should you run into a problem, there are several ways to get help.
Wix has a lot of online tutorials that can help you out of a sticky situation, and you can also call them for real-person assistance Monday through Thursday 5am to 5pm (EST).
If you call outside of those hours, you can leave a request with them to call you back.
Customer support with WordPress
Perhaps because WordPress is often used by those who are a bit more savvy in the online sphere, there's less support offered by the platform's team.
The best way to troubleshoot an issue with WordPress will be to read articles written by other users, rather than going to the WordPress team directly.
You'll likely find the answer there, but you may have to do a lot of sifting through less than stellar writing.
Which is better for customer support Wix or WordPress?
If you're new to the website world, Wix will feel a lot more friendly with their easily-available, real human support.
Wix vs WordPress for SEO
Both Wix and WordPress offer extensions that help with SEO. Let's dive into which is better.
Wix SEO
There are multiple SEO apps you can use with Wix, but the most popular one is called Site Booster, which is free to use with the Wix's unlimited plan. If you're using a lower-tier Wix plan, you can still use Site Booster; it'll just cost you a few bucks every month.
This app allows you to do all the important things you need to do for SEO, like target keywords and track performance.
WordPress SEO
If you've ever used WordPress, you already know Yoast or the all in one SEO pack. Both by far are the most commonly-used SEO plugins on the platform. Both will help you do critical SEO tasks.
While there is a free version of Yoast, its features are minimal, so you'll likely want to upgrade to the paid version, which costs about $70 dollars.
I recommend using the all in one SEO pack to save some money if you are on a budget. Both are virtually the same product but the all in one SEO pack costs less at $49 vs $70 for Yoast.
Which is better for SEO Wix or WordPress ?
Both Wix and WordPress have great SEO extensions, so you won't necessarily be tanking your rankings if you choose one over the other.
But WordPress's offers more SEO options, making it the better choice if you want to be more thorough with your SEO strategy.
Maintenance on Wix vs WordPress
Like anything else in your business, the website builder you choose will require some upkeep.
You've got a lot of things on your plate, though, so I recommend choosing the platform that automates as much of its own maintenance as possible.
Wix Maintenance
Updates are completely automated with Wix, so you don't have to do any work on your end to maintain the health of your site.
Plus, Wix is always rolling out new apps to add to your existing template; an important feature since, like I mentioned above, once you choose a template, you can't change it.
WordPress Maintenance
With WordPress, you have to put some (very minimal work) into updates. You'll receive a message a few times per year letting you know when it's time to install one.
This is necessary to do, otherwise certain elements of your site (like apps) may have problems.
Some web hosting platforms, themes and plugins will update automatically for you — so be sure to check what you need to do for each component of your site.
Which is better for maintenance Wix or WordPress?
Wix makes updating and maintaining your website a completely hands-off process, while WordPress requires a little work but it's minimal, so if you were already leaning toward WordPress, don't change your decision now.
Final Thoughts
The best website builder for you and your business will depend on your goals.
If you're looking to create a website as quickly and with as little effort as possible and are willing to sacrifice some customization to do so, I recommend Wix.
If you'd like to have (much) more control over the appearance and functionality of your website and/or you'll be using it primarily for blogging or Ecommerce, I recommend WordPress.
I would love to hear from you which option do you think is best for you and why? What challenges do you face choosing between both options?